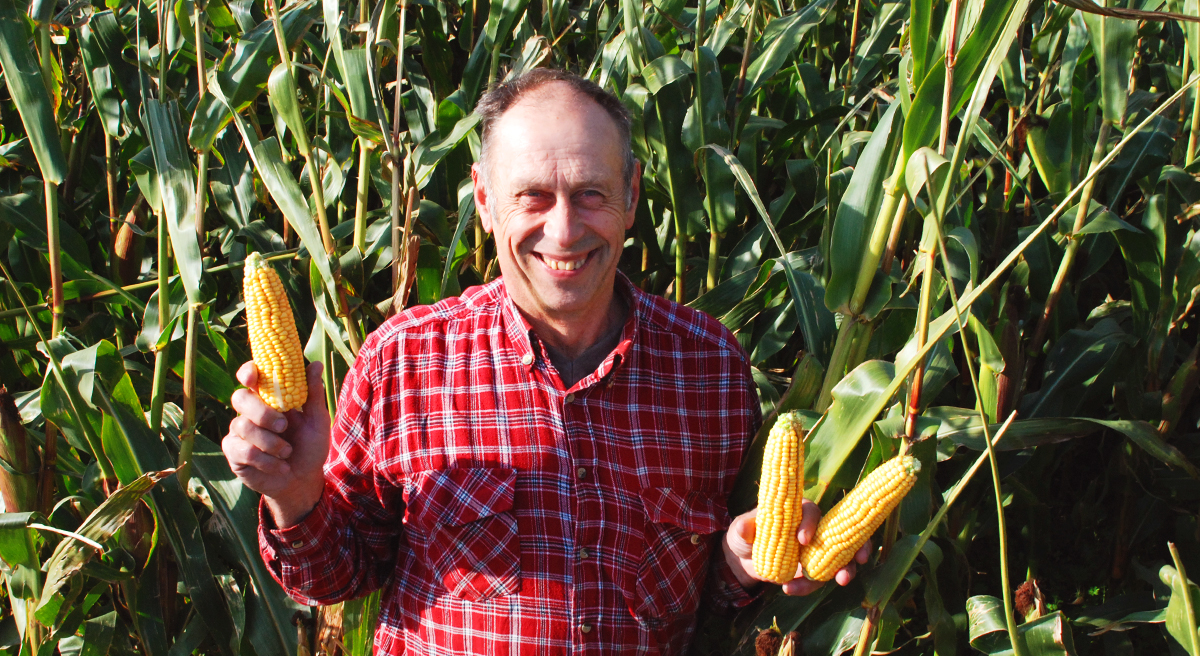 Maize, legumes, cereals, grass, soy, vitamins, minerals, and amino acids are what the Bjäre Chickens eat. The feed is completely vegetable and free of additives. We can guarantee that there is no fish meal, meat meal, antibiotics, coccidiostats (a type of antibiotics used only for animals), or GMOs in the feed. All the soy we use at Bjärefågel, and the soy our breeders use is certified according to ProTerra or RTRS via the feed companies Lantmännen and Svenska Foder, as importers of soy. The soy is GMO-free and is transported separately from other soy.
Our maize grower is Jan-Erik Andersson, fourth-generation farmer on Assargården on Glumslövs hills just south of Helsingborg. Per-Olof Ingemarsson had the luck of being told about Jan-Erik.
At first, we used French maize as a feed for our chickens, because back then it wasn't GMO-manipulated like the American maize. But most of all we wanted to use crops that were grown here at home. "There are no Swedish maize farmers who grow maize for threshing", said the feed industry. 
But one summer night here at Bjäre we were told about Jan-Erik, he grew maize for threshing, but had no customers! We called Jan-Erik and became best friends in five minutes. Supply and demand found each other! Jan-Erik is an important part of Bjärefågel ever since. 
By using locally grown feed and returning the manure to the cultivation of the area, we can contribute to the functioning of the natural cycle.